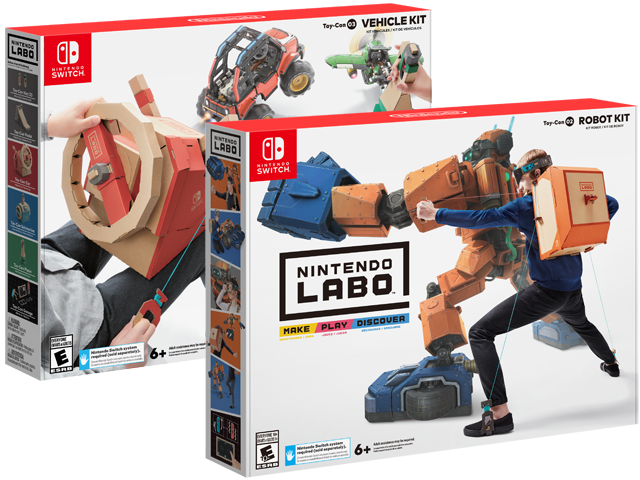 Make, Play, and Discover with Nintendo Labo™!
Simply have fun making DIY cardboard creations called Toy-Con, bring them to life with the technology of the Nintendo Switch™ system to play games, and discover the magic behind how Toy-Con works. Express your creativity by customizing Toy-Con projects with your own color, stickers, paint, and more. You can even invent your own Toy-Con!
All required building materials and accessories are included, and each kit's unique packed-in Nintendo Switch software provides interactive build instructions, games, and more — all you need to add is a Nintendo Switch console and its pair of Joy-Con™ controllers*!
Nintendo Labo Robot Kit Includes:
Nintendo Labo Robot Software Gamepak
Cardboard sheet x 19
Cardstock sheets x 4
Reflective sticker sheet x 1
Orange string x 2
Blue string x 2
Gray canvas straps (large) x 1
Gray canvas straps (medium) x 1
Gray canvas straps (small) x 2
Grommet set (gray) x 10
Grommet set (orange) x 2
Nintendo Labo Vehicle Kit Includes:
Cardboard sheet x 25 (includes extra sheet for customization)
Reflective sticker sheet x 1
Sponge sticker sheet x 1
String x 1
Grommet set (gray) x 2
Grommet set (red) x 2
Rubber bands (large) x 3 + spares (latex)
Rubber band (small) x 12 + spares (latex)
*Joy-Con not included.
Requires Nintendo Switch system (sold separately)
Rubber bands are made of natural rubber (latex).
Nintendo Labo Robot Kit CPSIA information: cpsia.nintendo.com/106171
Nintendo Labo Vehicle Kit CPSIA information: cpsia.nintendo.com/107645


p65warnings.ca.gov
Limited Warranty

Nintendo systems, including Authentic Refurbished systems, carry a standard 12-month warranty, which is one of the longest standard warranties in the video game industry. Games and accessories sold separately carry a three-month warranty. The warranty covers any manufacturing or workmanship defects and these will be repaired at no charge. [Learn More]

Returns/Exchanges:

Parts and Accessories, purchased directly from Nintendo, may be exchanged or returned within 30 days after a delivery of your order. Item must be in its original condition, undamaged, and with all parts.[Learn More]