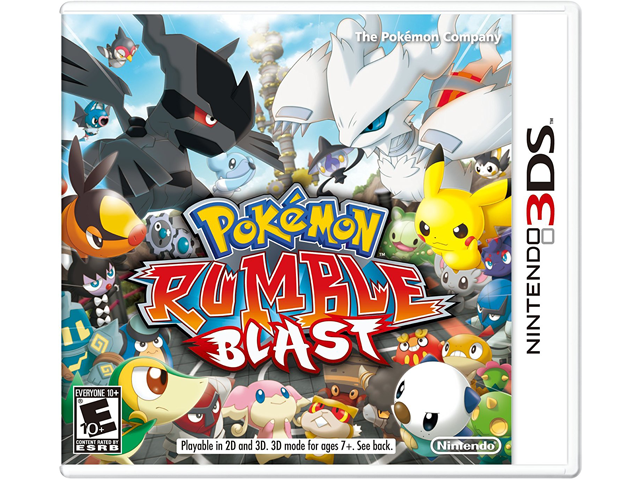 Experience the Franchise's Battle-Based Action and Adventure In a Whole New Dimension!
An action-packed Pokémon™ adventure in 3D without the need for special glasses, the game lets players battle against waves of opposing wind-up Toy Pokémon, connect and play with friends, and collect more than 600 Toy Pokémon.
As players advance through each stage in Pokémon Rumble Blast, their Toy Pokémon will face dozens of Toy Pokémon at once, creating fast and furious real-time battles. Players must also face off against giant Boss Pokémon, whose massive size and strength offer special challenges. Certain defeated Toy Pokémon can be added to the player's team, and players may also collect special Toy Pokémon, each with its own unique stats and abilities.
Players can collect more than 600 Toy Pokémon in all, including those from the Pokémon Black Version and Pokémon White Version games. Players can quickly and easily switch between the various Toy Pokémon they collect throughout the game.
** Use Parental Controls to restrict 3D mode for children 6 and under.


p65warnings.ca.gov
Limited Warranty

Nintendo systems, including Authentic Refurbished systems, carry a standard 12-month warranty, which is one of the longest standard warranties in the video game industry. Games and accessories sold separately carry a three-month warranty. The warranty covers any manufacturing or workmanship defects and these will be repaired at no charge. [Learn More]

Returns/Exchanges:

Parts and Accessories, purchased directly from Nintendo, may be exchanged or returned within 30 days after a delivery of your order. Item must be in its original condition, undamaged, and with all parts.[Learn More]