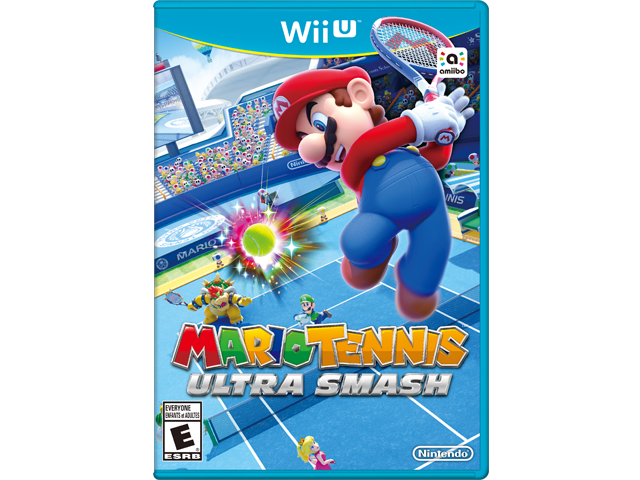 Mario Tennis comes to the Wii U System!
Compete with friends in the multiplayer Mario Tennis™: Ultra Smash game on the Wii U™ system. Along with the fun and dynamic gameplay known to the franchise, surprise your opponents with a new move to the series, the Jumpshot, which sends the ball flying down the court. Change the sport up with new Mega Battles, using the Mega Mushroom to gain an advantage over the competition. Claim your spot in Mario Tennis lore in singles (1v1) or doubles (2v2) as you play with and against family, friends or the CPU using returning and new characters to the series.
Play against friends and family in multiplayer matches.
Play against friends and family in both singles (1v1) and doubles (2v2) matches as your favorite Mushroom Kingdom character.
Control your character's every movement on the court, using precise timing and the correct shot to outwit your opponent.
Use the new Jumpshot technique to return shots like never before.
In Mega Battles, get the Mega Mushroom to gain a "big" advantage over your competition.
New characters make their Mario Tennis debut.


p65warnings.ca.gov
Limited Warranty

Nintendo systems, including Authentic Refurbished systems, carry a standard 12-month warranty, which is one of the longest standard warranties in the video game industry. Games and accessories sold separately carry a three-month warranty. The warranty covers any manufacturing or workmanship defects and these will be repaired at no charge. Learn More

Returns/Exchanges:

Parts and Accessories, purchased directly from Nintendo, may be exchanged or returned within 30 days after a delivery of your order. Item must be in its original condition, undamaged, and with all parts. Learn More