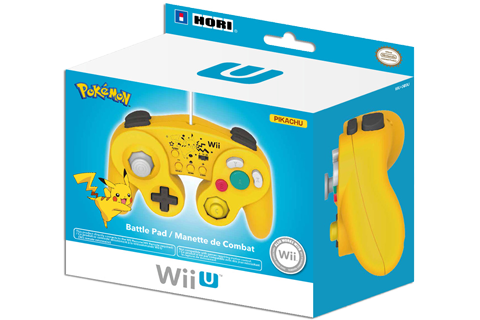 Take Control of the Action with This Battle Pad Turbo for Wii U Featuring Pikachu!
Perfect for fighting games such as Super Smash Bros.™, this officially licensed Pikachu™ themed control pad is similar to shape and function of the original Nintendo GameCube™ controller praised by Super Smash Bros. fans around the world.
Features short stroke L and R buttons, 3 Turbo settings, and a large D-pad. This controller can be used with the NES Classic Edition and for Classic Controller™, Classic Controller Pro™ supported games such as Mario Kart™ 8, and most Nintendo Virtual Console™ Games. Simply plug into the Wii U™ Remote and enjoy!
Note: No motion control function. Wii U Remote not included.
Battle Pad - Pikachu (Wii U, Wii)
Warranty

Nintendo systems, including Authentic Refurbished systems, carry a standard 12-month warranty, which is one of the longest standard warranties in the video game industry. Games and accessories sold separately carry a three-month warranty. The warranty covers any manufacturing or workmanship defects and these will be repaired at no charge. [Learn More]

Returns/Exchanges:

Parts and Accessories, purchased directly from Nintendo, may be exchanged or returned within 30 days after a delivery of your order. Item must be in its original condition, undamaged, and with all parts. All Authentic Nintendo Refurbished Product sales are final. No refunds or exchanges will be processed on these products. [Learn More]