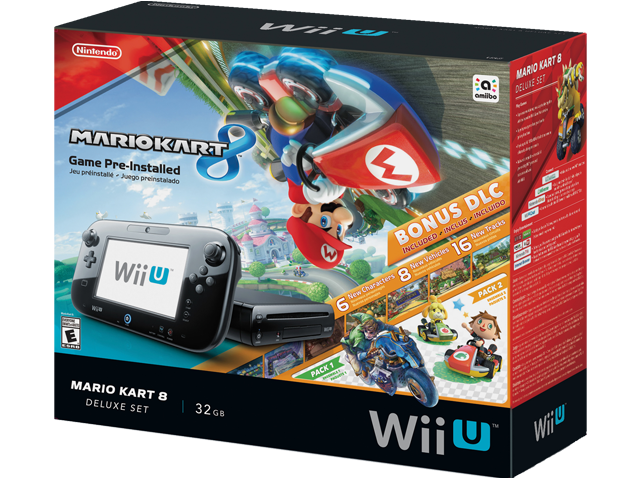 Rocket around the curves and over walls and ceilings using anti-gravity!
Wii U is the revolutionary console from Nintendo, featuring high definition graphics and the innovative Wii U GamePad controller. Play great games in all new ways, only on Wii U!
This Wii U deluxe set comes with the Mario Kart 8 game pre-installed, plus two packs of Mario Kart 8 bonus DLC. Includes 6 new characters, 8 new vehicles and 16 new tracks to download!
Feel the rush as your kart rockets across the ceiling. Race upside-down and along walls on anti-gravity tracks in the most action-fueled Mario Kart game yet!
Includes:
Wii U Hardware (32 GB Internal Storage)
Wii U Game Pad
Game Pad Stylus
Sensor Bar
Wii U Console AC Adapter
Wii U GamePad AC adapter
HDMI cable
Wii U Game Pad Stand
Wii U Game Pad Cradle
Wii U Console Stand
Mario Kart 8 comes pre-installed, no physical disc needed.
Includes a Nintendo eShop download card for 2 packs of bonus DLC
Limited Warranty

Nintendo systems, including Authentic Refurbished systems, carry a standard 12-month warranty, which is one of the longest standard warranties in the video game industry. Games and accessories sold separately carry a three-month warranty. The warranty covers any manufacturing or workmanship defects and these will be repaired at no charge. [Learn More]

Returns/Exchanges:

Parts and Accessories, purchased directly from Nintendo, may be exchanged or returned within 30 days after a delivery of your order. Item must be in its original condition, undamaged, and with all parts.[Learn More]