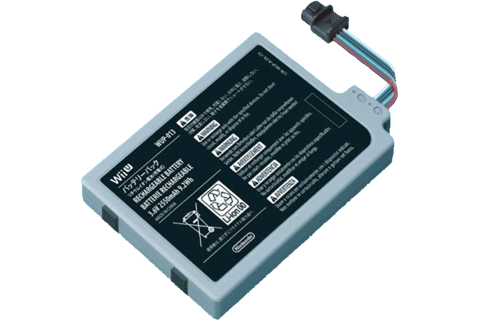 Higher capacity for longer play time!
This Wii U™ GamePad battery pack offers up to 8 hours of use and can be easily installed using a size 0 screwdriver (not included) and included instructions.
Battery Capacity: 2550mAh / 9.2 Wh (offers up to 8 hours of use, compared to 3–5 hours with standard Wii U GamePad Battery) Battery Voltage: 3.6V
Battery duration is an approximation. It can vary according to the use of the Wii U GamePad, usage of wireless communications, the ambient temperature, and the brightness setting of the screen.
If your GamePad is not charging or holding a charge properly, we recommend following our troubleshooting steps before deciding on a replacement. You'll need a small phillips tip screwdriver (not included) to open the battery compartment before you can replace the battery.
Note: Due to shipping restrictions, lithium ion batteries can be sent via Standard Shipping ONLY. A maximum of 2 lithium ion batteries per order.
For information on battery recycling, please click here.
High Capacity Wii U GamePad Battery Pack
Warranty

Nintendo systems, including Authentic Refurbished systems, carry a standard 12-month warranty, which is one of the longest standard warranties in the video game industry. Games and accessories sold separately carry a three-month warranty. The warranty covers any manufacturing or workmanship defects and these will be repaired at no charge. [Learn More]

Returns/Exchanges:

Parts and Accessories, purchased directly from Nintendo, may be exchanged or returned within 30 days after a delivery of your order. Item must be in its original condition, undamaged, and with all parts. All Authentic Nintendo Refurbished Product sales are final. No refunds or exchanges will be processed on these products. [Learn More]