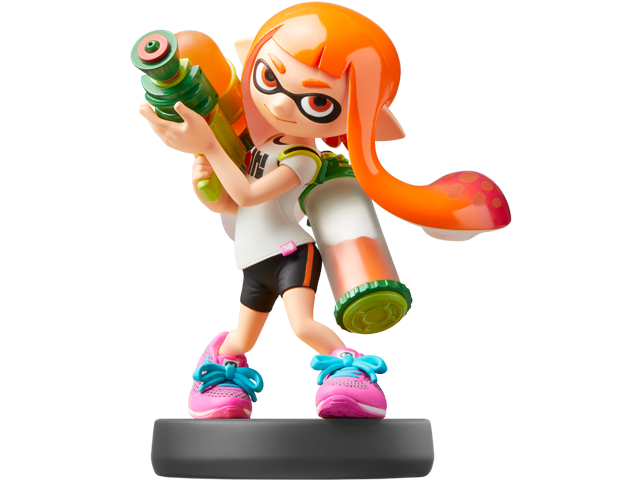 Inklings hail from the city of Inkopolis in the Splatoon™ series. They crave team-based competition and love to customize their gear before participating in the hottest sport in town, Turf War! Their hobbies include making messes, rocking the latest fashions, dancing, and spoiling the nefarious plans of their evil octopus archrivals, the Octarians! For realsies!
Inkling Girl is compatible with several games. Click here for details.
Figures shown not actual size and designs may vary. Compatibility and functionality of amiibo may vary per game. Visit amiibo.com for specific details on how each amiibo works.


p65warnings.ca.gov
Inkling Girl (Super Smash Bros.)
Limited Warranty

Nintendo systems, including Authentic Refurbished systems, carry a standard 12-month warranty, which is one of the longest standard warranties in the video game industry. Games and accessories sold separately carry a three-month warranty. The warranty covers any manufacturing or workmanship defects and these will be repaired at no charge. Learn More

Returns/Exchanges:

Parts and Accessories, purchased directly from Nintendo, may be exchanged or returned within 30 days after a delivery of your order. Item must be in its original condition, undamaged, and with all parts. Learn More