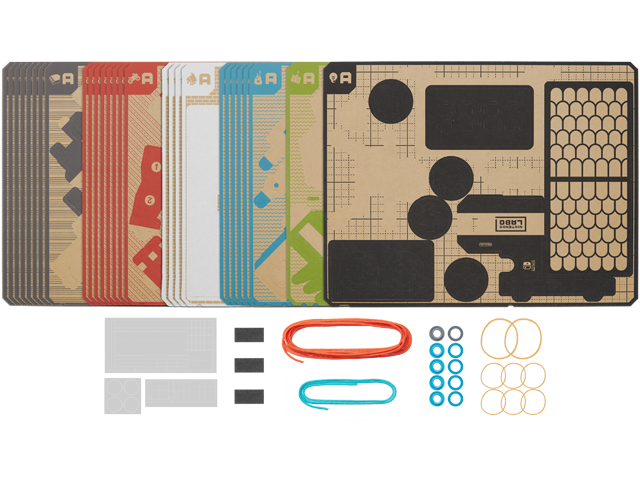 Currently out of stock. Please check back again soon!
Nintendo Labo™ Variety Kit – Cardboard & Accessory Pack (game not included)
Make, Play, and Discover with Nintendo Labo!
This Nintendo Labo Variety Kit can be used to build an additional or replacement Toy-Con, or design a new Toy-Con. This pack includes all the parts required to build the Variety Kit Toy-Cons, but does NOT include the Variety Kit software.
The Variety Kit includes six different Toy-Con to Make, Play, and Discover: two Toy-Con RC Cars, a Toy-Con Fishing Rod, a Toy-Con House, a Toy-Con Motorbike, and a Toy-Con Piano.
Includes:
Cardboard sheet x 28 (includes extra sheet for customization)
Reflective sticker sheet x 3
Sponge sheet x 3
String (orange) x 1
String (blue) x 1
Grommet set (gray) x 1
Grommet set (blue) x 1
Rubber band (large) x 2 + spares
Rubber band (small) x 6 + spares
*Nintendo Labo game and Nintendo Switch™ system required (not included). Game is only available as part of the complete Nintendo Labo Variety Kit set which is sold separately.
Rubber bands included in this product are made of natural rubber (latex).
Cardboard made in USA. Other components made in Japan.
CPSIA information: cpsia.nintendo.com/107137


p65warnings.ca.gov
Nintendo Labo Variety Kit - Cardboard & Accessory Pack
Limited Warranty

Nintendo systems, including Authentic Refurbished systems, carry a standard 12-month warranty, which is one of the longest standard warranties in the video game industry. Games and accessories sold separately carry a three-month warranty. The warranty covers any manufacturing or workmanship defects and these will be repaired at no charge. Learn More

Returns/Exchanges:

Parts and Accessories, purchased directly from Nintendo, may be exchanged or returned within 30 days after a delivery of your order. Item must be in its original condition, undamaged, and with all parts. Learn More