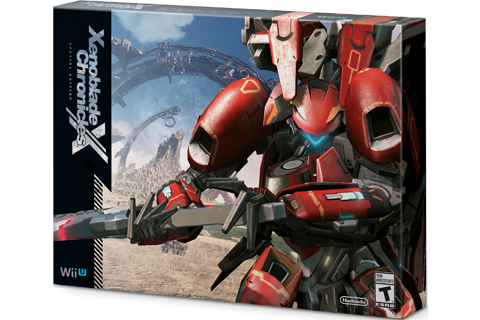 X Marks the Spot!
The next massive sci-fi role-playing game from Monolith Soft, the creators of Baten Kaitos and Xenoblade Chronicles, comes exclusively to Wii U. A terrible intergalactic war leaves just a handful of Earth survivors trying to live in a beautiful yet hostile environment. Players engage in battles against powerful creatures of all forms and sizes using the deep battle system that builds on the triumphs of Xenoblade Chronicles for Wii.
Special Edition includes:
The Xenoblade Chronicles X game.
A gorgeous book of concept art with more than 100 pages, featuring select art for the very first time.
A unique USB drive modeled after the game's "Lifehold Unit," pre-loaded with a selection of 10 music tracks from the game's memorable soundtrack.
A limited-edition matted 5x7 art card of a painting done for the game by illustrator Takashi Kojo.
Warranty

Nintendo systems, including Authentic Refurbished systems, carry a standard 12-month warranty, which is one of the longest standard warranties in the video game industry. Games and accessories sold separately carry a three-month warranty. The warranty covers any manufacturing or workmanship defects and these will be repaired at no charge. [Learn More]

Returns/Exchanges:

Parts and Accessories, purchased directly from Nintendo, may be exchanged or returned within 30 days after a delivery of your order. Item must be in its original condition, undamaged, and with all parts. All Authentic Nintendo Refurbished Product sales are final. No refunds or exchanges will be processed on these products. [Learn More]